"Harp from the Heart" Tee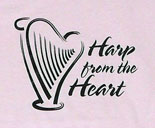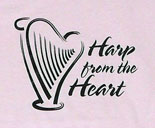 "Harp from the Heart" Tee
"HARP FROM THE HEART" -
These Tees say it like it is and are sure to attract the attention of those that are harp lovers! 100% Pre shrunk cotton with round neck or in Spandex V-neck with silk screened print.
Colors include: Black shirt with white print, White shirt with black print, Pink round neck shirt with black print or Pink Spandex
with V-neck and black print.
Please note:
R = Round Neck Collar
V = V-Neck Collar